Untuk piranti lunak produkan dari Microsoft mungkin secara visual kurang lebih ya sama2 aja … yah itu siy menurutku :p . Kalo Windows 3.1 mungkin karena masih pertama2 jadi ya wajar kalo masih keliatan jelek, tapi mulai dari Windows 95 sampai dengan Windows XP secara tata letak keqnya masih mirip2 aja. Yang membedakan mungkin hanya masalah grafis, sekuriti, dan pengalokasian memory ….. bener ga tuh
.
Nah, di Windows Server 2003 R2 yang konon beraliran 64-bit atau x64 secara tampilan tetep aja sama keq sodara2nya yang lain. Cuman yang bikin beda adalah kecepatannya, sekuritinya karena emang diperuntukkan untuk server dan 1 hal yang pasti adalah ada beberapa driver hardware yang tidak bisa berjalan di sopwer beraliran 64-bit atau x64 ini. Aku ga tau bener atau salah menyebutnya beraliran 64-bit atau x64 karena emang ga mudeng urusan ginian ….

Epson LQ-2180 termasuk printer berbadan besar dengan port paralelnya …. untuk memfungsikannya di server HP-Proliant tentu saja harus memakai kabel tambahan USB to LPT.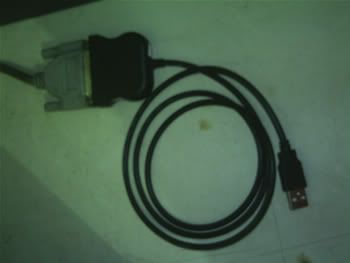 Pada saat driver printer ini diinstallkan ke cpu yang bermuatan Windows Server 2003 R2 maka akan muncul pesan ….
mo dicoba beberapa kali juga ga akan bisa dan ini sungguh menjengkelkan …. nah untuk itu agar printer Epson LQ-2180 ini bisa digunakan di Windows Server 2003 maka perlu menggunakan beberapa tahapan.
1. Silahkan pergi ke Start >> Setting >> Printers and Faxes
kemudian klik " Add Printer " sampai dengan muncul seperti gambar dibawah ini.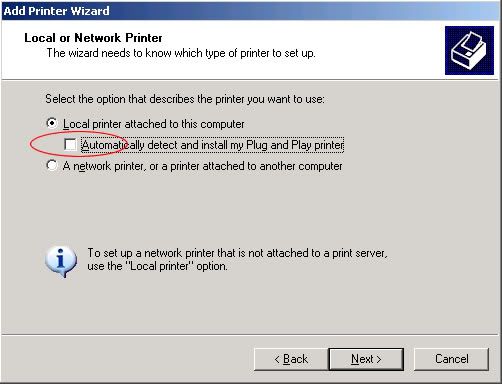 " Automatically "-nya ga usah di checkmark …. biarkan kosong ….
2. Kemudian pilih portnya …. kalo ditempatku koneksi ke printer lewat usb maka aku pilih " USB001 " sebagai dasar koneksinya.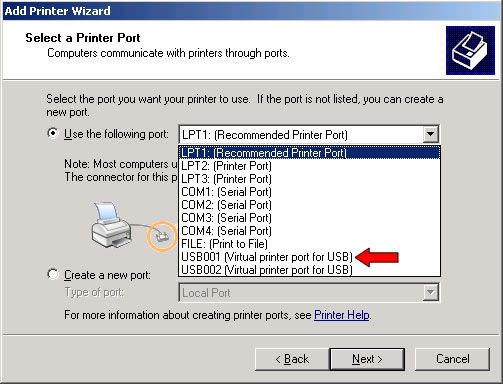 3. Setelah pilih port kemudian pilih merk printer dan type printernya …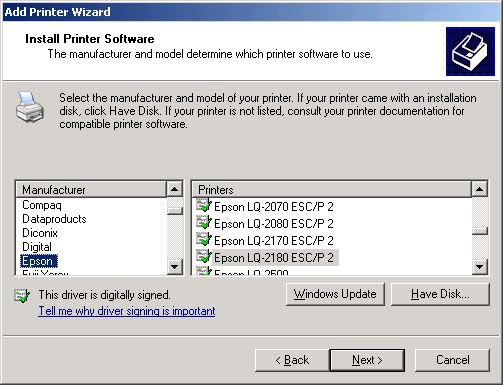 4. Kasih printer name-nya dan mau dijadikan default printer atau nggak …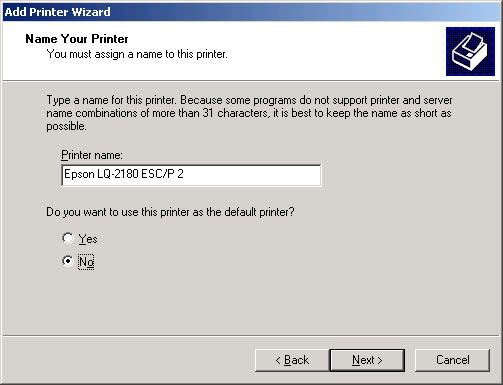 5. Nama share printernya kalo memang bakal di share ke dalam jaringan …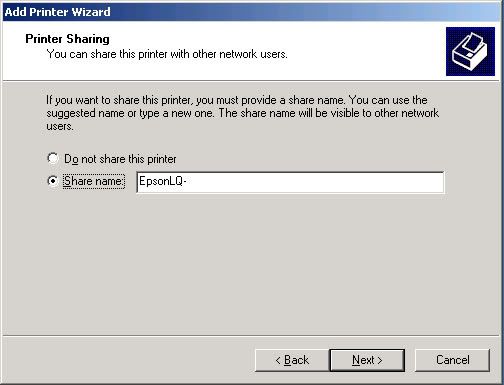 6. Lokasi dari printernya …. dikosongi juga ga bakal dimarahin koq :p
7. Cetak test print-nya atau nggak ….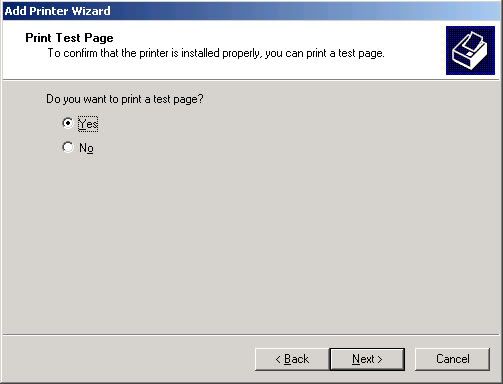 8. Kalo berhasil maka akan muncul tampilan berikut ini ….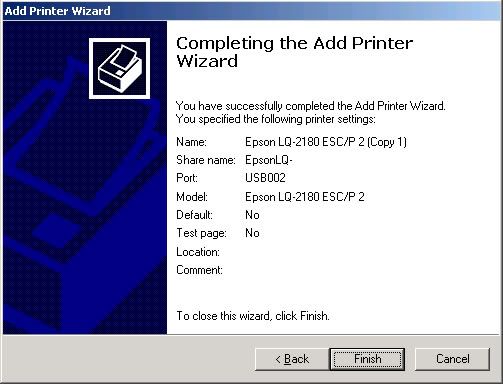 Selamat Mencoba …… maaf kalo basbang ……